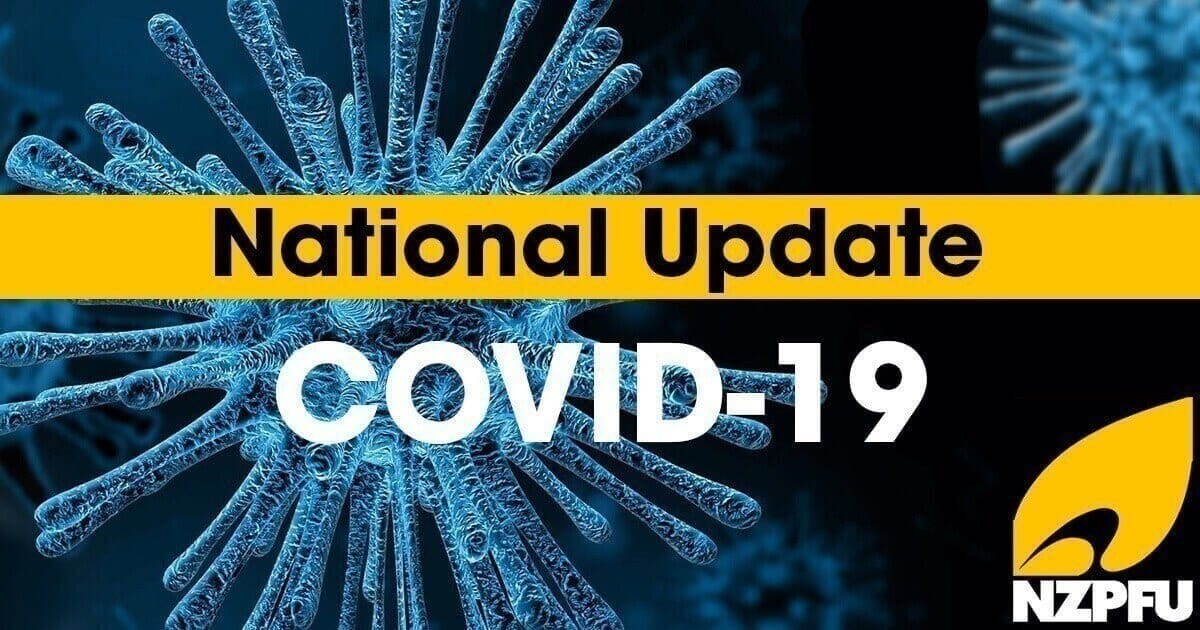 1. Collection of vaccination status information
UPDATE: AS A RESULT OF NZPFU INTERVENTION FENZ HAS NOW REMOVED THE OFFENDING QUESTIONAIRE FROM HOMEBASE THIS AFTERNOON. WE HAVE RETAINED THE BELOW INFORMATION ON THE QUESTIONAIRE SO THAT MEMBERS' ARE FULLY AWARE OF ISSUES THAT NEED TO BE RESOLVED SHOULD THE MANDATORY ORDER APPLY TO MEMBERS' WORK.

Despite repeated requests to meet with FENZ to discuss all issues that will arise if a mandatory vaccination Order applies to their work, FENZ has issued a Covid-19 vaccination status questionnaire to staff that we have never seen or discussed. FENZ's executive leaders have repeatedly assured the NZPFU it will involve and consult with the NZPFU before taking any action to address implications of an applicable mandatory vaccination Order but have failed to do so.
Members are advised it is not in your interests to fill out the questionnaire which is accessed via FENZ Homebase and the Covid Status link.
The outcome is that FENZ has issued a questionnaire that goes beyond any necessary data collection of vaccination status.
The declaration of vaccination status is only required where a mandatory vaccination Order covers the work/worker. It is yet to be determined the extent to which the latest mandatory vaccination Order applies to our members.
We do not know what protections are in place for the protection of the privacy of your personal information including who will access the information, how it will be used or stored.
The request to declare whether you or a member of your household is immune compromised is not a required disclosure under any mandatory vaccination Orders. We have experience of FENZ mis-using personal medical information to the detriment of the individual. There is a risk that FENZ will use that information to detrimentally impact your employment and security of employment.
Asking staff whether they would work with unvaccinated personnel is not a required disclosure under an applicable mandatory Vaccination Order. That will not be a personal choice. The vaccinated status of your co-workers will only be relevant if the work or role is captured by a mandatory vaccination Order. If a mandatory Order applies then the worker will be vaccinated. If a mandatory Order does not apply then the worker does not have to be vaccinated.
We will update members on the collection of Covid-19 vaccination status once we have met with FENZ to discuss and agree to the appropriate questions and protections for your information and the use of that information.
2. Mandatory Vaccination Order
Last night the Covid-19 Public Health Response (Vaccinations) Amendment Order was Gazetted and can be accessed via this link: COVID-19 Public Health Response (Vaccinations) Amendment Order (No 3) 2021 (LI 2021/325) – New Zealand Legislation
The relevant group of affected persons are the following workers in the health and disability sector:
health practitioners:
workers who work in close proximity to health practitioners providing health services to members of the public:
workers employed or engaged by certified providers (which includes workers at a facility providing hospital care, rest home care, residential disability care, or fertility services):
care and support workers.
The Order has different timeframes for mandatory vaccination than the Government previously announced.
Under the Order the affected persons will have to have at least the first does of the Covid-19 vaccination by 15 November 2021 and the second dose by 1 January 2022.
It is still not clear to whether our members fall within the group of affected persons that will have to be vaccinated, and if so to what extent. We need to discuss the application of the Order with FENZ to determine what work is required to be undertaken by a vaccinated person, whether that affects roles or just specific tasks (such as emergency medical response) and whether options are available to ensure only vaccinated personnel undertake that specific work. We will then need to work through the options for non-vaccinated personnel.
Our members can be assured the NZPFU will work to preserve our members' jobs, including where necessary working with FENZ to identify appropriate alternative options and roles to maintain employment.
If you have been vaccinated there is nothing to do until we know the application of the mandatory vaccination order.
If you are intending to be vaccinated then arrange to be vaccinated now.
If you are considering being vaccinated then we strongly suggest you arrange to be vaccinated now.
If you think you need medical advice before being vaccinated then get that advice now.
If you think you may eligible for an exemption on medical grounds then make an appointment with your medical practitioner now to prepare for the possibility of having to provide written confirmation from a suitably qualified practitioner who has examined you.
If you have other reasons you are not vaccinated please prepare for the possibility a mandatory vaccination order will cover the work you do. This may include reconsidering your vaccination status, or preparing for your vaccination status being provided to your employer. Please contact the union if you want to discuss your situation. It would be helpful to know who and how many might be needing union support and representation for their particular circumstances if a mandatory order affected their work. Until we know the appropriate application of the Order we will not be able to provide specific advice.
NZPFU representatives have made themselves available this weekend to work through these critical issues with FENZ. However, as the Order has an extended timeframe for mandatory vaccination FENZ has opted not to meet or work on the issues this weekend.
We will keep members informed of any developments.
In unity,
Wattie Watson
National Secretary