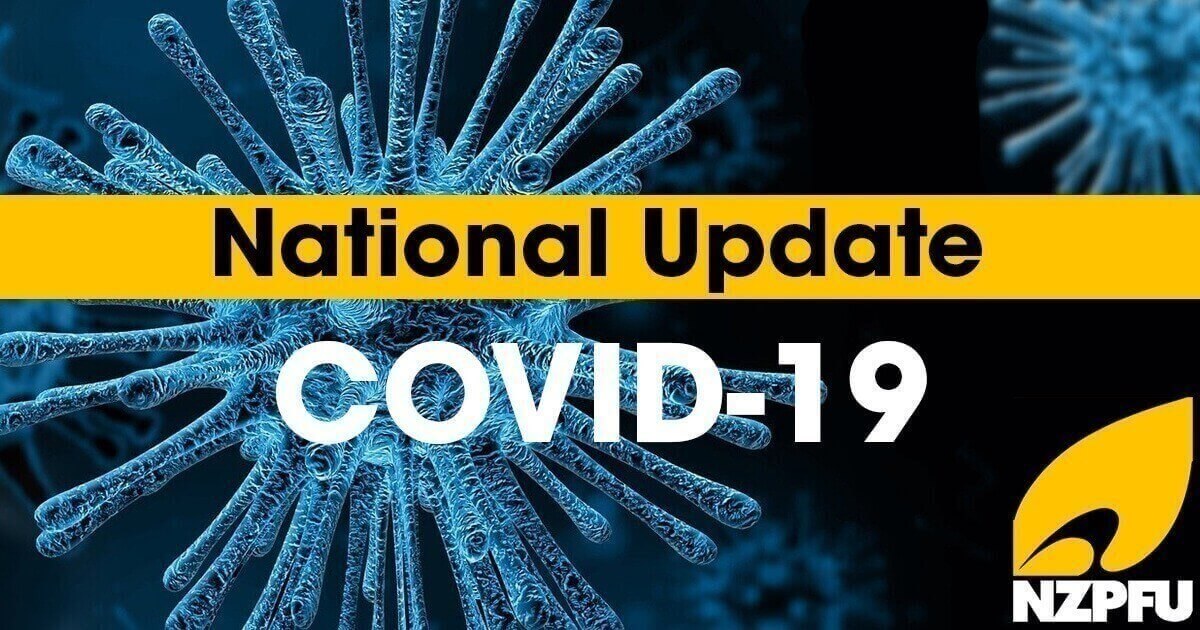 The Covid-19 vaccination Hub system is failing firefighters as those that respond to MIQ facilities, airports and border facilities are not even being offered dates, let alone priority for Covid-19 vaccinations.
The MOH confirmed in April that FENZ personnel were Tier 2A for the national Covid-19 vaccination roll out. We are now in the last week of June and many metro firefighters have not even been offered the vaccination.
The Ministry of Health has control of the vaccination rollout and that MedPro has been contracted to administer vaccination hubs for FENZ personnel, but FENZ should be able to inform and influence a practical and sensible roll-out to its employees and volunteers. FENZ is putting its view of unification ahead of a sensible and pragmatic approach to access to vaccinations.
The NZPFU has received documentation that shows FENZ provided a "conglomerate model" to MOH which included a list of all stations (urban and rural) and personnel (no distinction on career, urban volunteer or rural volunteer) and the result has been the current absurdity of small rural communities like Wairoa - which has no MIQs or border facilities - being offered vaccinations when firefighters in that area had already been offered vaccinations through the DHB, while Wellington and Hamilton firefighters are not being offered any this week.
In January 2021 the NZPFU discussed the prioritisation of vaccination programmes with FENZ which we expected to align with Government policy and risk profiles so that firefighters responding to MIQ and border facilities including airports and ports would be prioritised and those that undertake medical response following closely behind. FENZ failed to influence a roll-out on that basis and we now have the absurd situation where more vaccinations are being made available to rural and small towns and those responding to MIQs and borders are being left out.
Our members in Auckland, Waikato and Wellington have all reported either a total lack of vaccinations being made available to them through the Hub system, or very few being made available. Today FENZ released the following information of available vaccinations for firefighters this week – note some of these dates have already passed, and Wellington and Waikato are not getting access to any, and a total of 90 vaccinations were made available to all responders in Region 1 (regardless of whether they respond to MIQs or undertake medical response).
The following information was received from National Commander Kerry Gregory today:
We have 16 hubs operating this week. The Wairoa hub, which was number 17 was cancelled by the Area as they have had significant numbers vaccinated by the DHB prior to the MedPro hubs being established. Below are the locations of the hubs, their operating dates/times and the number of appointments available for the session.
| | | | |
| --- | --- | --- | --- |
| # | Hub Location | Vaccines allocated for session | Dates/Times |
| 1 | Avondale | 60 | Monday 21st June, 12.15pm - 6pm |
| 2 | Mount Wellington | 30 | Tuesday 22nd June, 7.30am - 10am |
| 3 | Morrinsville | 30 | Tuesday 22nd June, 9am - 11.30am |
| 4 | Ngaruawahia | 30 | Friday 25th June 4pm - 6.30pm |
| 5 | Taupō | 30 | Tuesday 22nd June, 1.30pm - 4pm |
| 6 | Tokoroa | 30 | Tuesday 22nd June, 9.00am - 11.30am |
| 7 | Whakatane | 60 | Thursday 24th June, 11am - 4.45pm |
| 8 | Mount Maunganui | 90 | Wednesday 23rd June, 10.30am - 7pm |
| 9 | Hastings | 60 | Tuesday 25th May, 3pm - 5.30pm |
| 10 | Hastings (Dose 2) | | Thursday 27th May, 3 pm – 5:30 pm |
| 11 | Napier | 60 | Friday 28th May, 3pm - 8.15pm |
| 12 | Whanganui | 30 | Wednesday 23rd June 2.30pm - 5pm |
| 13 | Marton | 30 | Wednesday 23rd June 10am - 12.30pm |
| 14 | Palmerston North | 90 | Tuesday 22nd June, 9am - 5.30pm |
| 15 | Woolston | 90 | Friday 25th June, 10am - 6.30pm |
| 16 | Invercargill | 60 | Friday 28th May, 3pm - 8.15pm |
| | | 780 | |
We have been asking FENZ for weeks to sort out the issue.
A few weeks ago fed-up firefighters in Auckland who did not have access to any vaccinations accessed the DHB vaccination sites. They had been watching and waiting for vaccination dates and times at Auckland hubs and decided they could not wait any longer. Auckland firefighters reported that someone (either FENZ of MOH) had taken steps to prevent firefighters accessing the DHB's vaccination booking process.
Other firefighters have decided they simply cannot wait. They are seeking assistance from GPs and through DHB vaccination centres. The NZPFU understands for some this failure to have access to vaccinations is becoming a mental health issue.
FENZ is waiting for a scheduled meeting with the MOH to raise issues against. NOT GOOD ENOUGH!
The NZPFU advises its members who wish to be vaccinated (as it is voluntary) and have been unable to access vaccinations to do the following:
Email the National Commander to put on the record if they cannot access vaccinations through the HUB system.
Record every response to a MIQ or border facility in the FENZ safe@work kiosk of having to respond to risk facilities without being offered a vaccination.
Record every medical response (in circumstances where there is a case of Covid-19 in the community) in the FENZ safe@work kiosk of responding in those circumstances without being offered a vaccination.
For those that cannot wait for common sense to prevail, or where the inability to access a vaccination through the FENZ Hub system is causing you stress and anxiety, please seek assistance and support including approaching your GP and explain the situation and request access to a vaccination.
In unity,
Wattie Watson
National Secretary