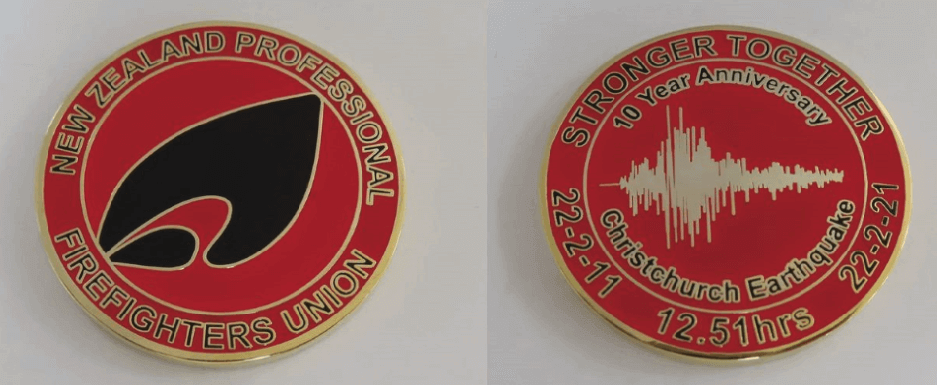 Further to our National Notice to Members dated 22 February 2021 regarding the 10th Anniversary of the Christchurch Earthquake, we have now received the commemorative coins and are in the process of despatching them to all members.  We have asked the Officer in Charge at each Fire Station to ensure that every member receives a coin and we ask that you either sign or have your name crossed off from the list provided to the OIC.
As mentioned in the National NTM on 22 February 2021:
"In recognition of the significance of the earthquake and anniversary, the NZPFU has struck a challenge coin.  The coin was designed in collaboration with the Christchurch Local, Southern Branch Representatives and the National President Ian Wright.  It is in Canterbury's red and black colours with the date, time and the seismograph of the 6.3 earthquake, and the date of the 10th year anniversary.  The coin will be gifted to all members and life members nationally, and will also be gifted to any retired members who responded on the day and in the aftermath, including our members in the call centre or non-operational roles and from other Locals."
We trust this coin will be a reminder to you all of that very tragic day and of the extraordinary measures that our members who responded both on the day and during the aftermath went through, and are still going through to this day.
Any members who do not wish to receive a coin can inform the Officer in Charge and all remaining coins will be sent back to the NZPFU National Office to be distributed to others who have requested additional coins.