The NZPFU proudly encourages members to support and participate in the upcoming Rainbow Pride parades in Auckland and Wellington. This is an opportunity to get involved and publicly promote rainbow-inclusive workplaces.
The participation of FENZ employees including firefighters has started to build in recent years, and this year we hope to maximise that support. So put these dates in your diary now!
The Auckland parade is only just around the corner on Saturday the 20th of February 2021
The Wellington parade is on Saturday the 10th of April 2021
We have received the following information from QFF Daniel Colbec which includes the relevant contacts for registering participation, and to get hold of t-shirts and pins.
These parades are about us coming together to show support for the rainbow networks within our community and FENZ. It is about standing up against discrimination against the rainbow community and striving for a more accepting New Zealand. This is a chance to show you support diversity within FENZ!

Both parades are an open invitation to all members of FENZ including career and volunteer firefighters, friends and family that would like to get involved on the day. Last year we had a good turnout to the parades but this year we hope to see more as we gain more traction within FENZ. There are T-shirts and rainbow pins (the pins can be worn with our uniform during work hours as approved by the National Commander) that can be worn on shirts, that will be given to those that register. But there is a limited number of both so make sure you register to reserve yours. It is unfortunately a first in first served situation).

If you or anyone you know is interested in more information or you yourself would like to come on the day, please shoot us an email at pride@fireandemergency.nz - this is important for numbers as the parade takes a significant amount of organisation and an estimate of numbers for the day will really help us out. For more information in relation to the parade itself, please go to - https://rainbowpride.org.nz/parade/
Looking forward to seeing everyone there.
So organise your family, your mates and/or your crew, register at pride@fireandemergency.nz to come and support rainbow networks and rainbow-inclusive workplaces at the Auckland and Wellington Pride Parades. If you miss out on a Pride t-shirt you can wear your NZPFU T-shirt.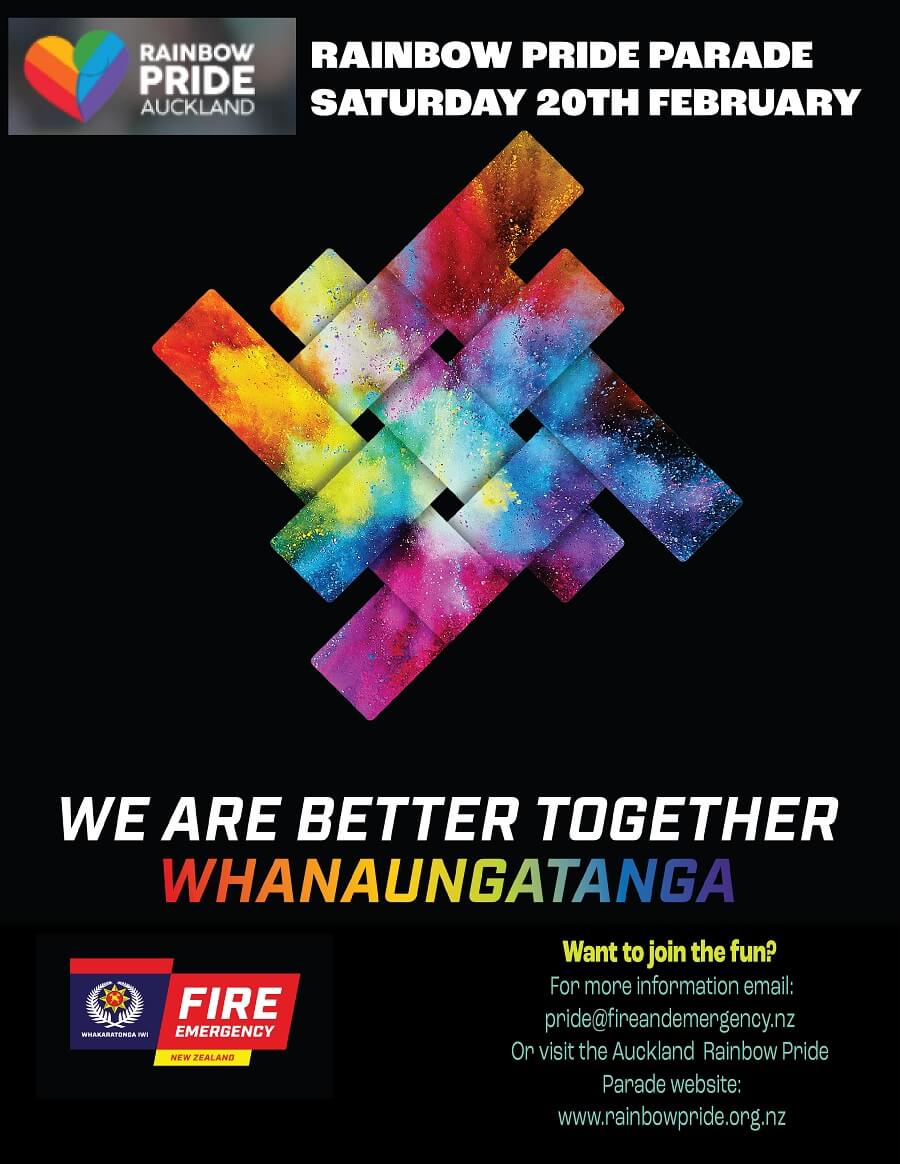 In unity,
Wattie Watson
National Secretary