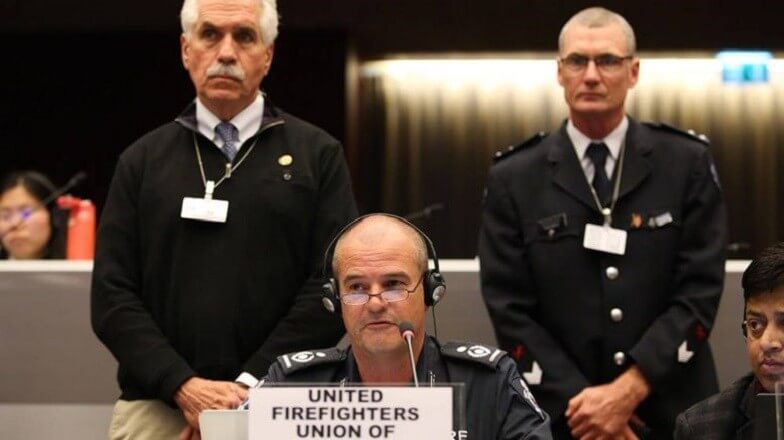 The NZPFU was part of a global alliance call for a worldwide ban on the use of any PFAS firefighting foams in Geneva this week.

Initiated and lead by the United Firefighters Union of Australia, the IAFF and the NZPFU were represented at the ninth meeting of the Conference of the Parties to the Stockholm Convention at the United Nations in Geneva.
MFB Commander Mick Tisbury who is widely regarded as the firefighting expert on the use and impact of the use of PFAS firefighting foams was afforded speaking rights and his presentation "A Firefighters Experience" received a standing ovation.
His presentation was videoed and can be seen via this link.
Mick Tisbury was flanked by United Firefighters Union of Australia Victoria Branch President David Hamilton and IAFF Assistant General President for Health, Safety and Medicine Pat Morrison.
This was an extraordinary presentation defining a historic moment as firefighters' welfare and health was centre stage for this debate on the global stage.
The NZPFU extends its deep gratitude to the UFUA for all the work that has been done in this ground-breaking health and safety issue and expertly representing the interests of all firefighters at this critical forum. The NZPFU also greatly appreciates the IAFF involvement which added significant weight to presentation and ensured world leaders and government representatives understood that this was a global issue for firefighters and that the unions were united in ensuring all firefighters were protected from training and working with toxic foams.
This work will be a great legacy for firefighters for generations to come. It is another example of the power of our global alliance and the great benefits that can be achieved through our strong relationships with our international partners.
In unity,
Wattie Watson
National Secretary