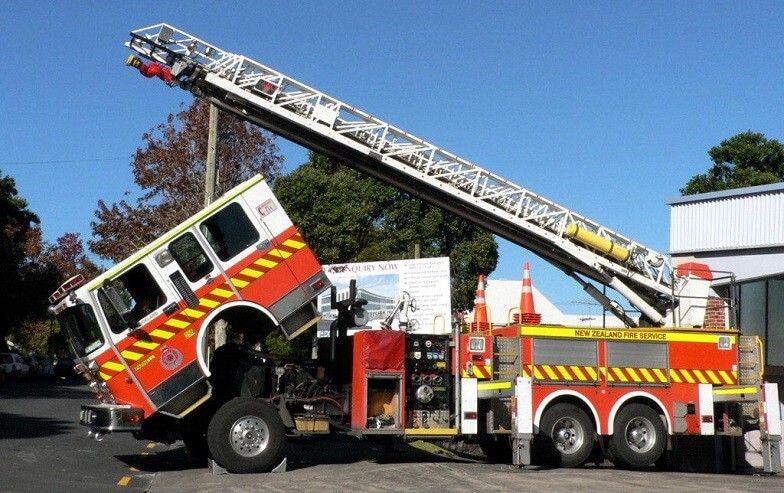 FENZ was warned by NZPFU representatives three years ago after a serious aerial appliance failure that an aerial appliance maintenance replacement programme was overdue and procurement processes had to commence. Three years later there is a crisis in Auckland where the region that was serviced with 5 heavy aerial (ladder) appliances now only has two. Every metropolitan city in New Zealand is affected by a faulty aerial appliance.
The predetermined response allocation of aerial appliances responding on first alarm was determined on the basis of risk and best practice for the safe and effective deployment of firefighters.
In Auckland the predetermined response was four appliances including one aerial appliance and 16 firefighters. Auckland management have removed the heavy aerial from first response so only three fire trucks and 12 firefighters are deployed. Management have said the decision was made to reduce wear and tear on the appliances. There is still no coherent strategy to addressing the crisis in aerial appliances.
Every alarm is treated as a fire until known otherwise. FENZ doesn't have a crystal ball so its response to the crisis to withdraw aerials from first response emergency calls is akin to Russian roulette unnecessarily putting the lives of the public and firefighters in danger. Auckland deserves better and with the dense urban population with high rises the response is unacceptable.
The heavy aerial appliances with turntable ladders can extend 30 metres (10 storeys) and their location at the fire is critical. Failure to respond an aerial at the first alarm can result firefighters having to cease firefighting to enable the aerial appliance to be positioned. An uncontained fire can double in size every couple of minutes and the delay in getting an aerial appliance to the scene puts lives at risk.
Officers are strongly encouraged to call for an aerial appliance if they are responded to a building, that in their opinion the quick response of an aerial appliance could be an advantage for any reason. This may even include fire alarm activations which are deemed to be fires until proven otherwise. Once the Officer in Charge deems that the aerial appliance is not required, they can then release it from the incident ground.
The NZPFU has been made aware that where Auckland Officers have requested the aerial appliance they have been contacted by management and questioned over the deployment. Officers are charged with making the appropriate response to an alarm including best practice for firefighters on the incident ground. No Officer should be questioned when acting in accordance with predetermined response allocation to ensure safe firefighting practices can commence and in a timely manner. The NZPFU does not accept the FENZ's unilateral decision to save wear and tear on aging and limited appliances is grounds to put the public and firefighters at further risk.
Aerial appliances are a valuable tool for firefighters at a multitude of incidents ranging from multi-story buildings, commercial buildings, shopping malls, large domestic dwellings, industrial complexes, and ship fires. They are also essential for fire alarm activations which are always deemed to be a fire until proven otherwise upon investigation, and can be a precursor to a serious developing event.
Not only do these specialised heavy aerial vehicles provide an extended reach capability of up to 30 metres, or approximately 10 floors, for access and firefighting extinguishment, they can provide essential tasks such as alternative access points, emergency egress for firefighters, observation, and search and rescue of members of the public. All of these roles depend on the timely response of them to the fire-ground, as access can quickly become hindered by a late arrival due to fire truck positioning, hose deployment, fire development, traffic and crowd control limitations.
Both National and International experience has proven that a delayed response of these specialist vehicles means that their tactical deployment options become limited and prove essentially useless once they do arrive.
The NZPFU does not support decisions that undermine long-established safe systems of response that protect the community and firefighters. We will not stand by and allow Officers to be undermined in their operational decision-making. It is for that reason that we have strongly encouraged Officers to call for an aerial appliance if in their opinion the appliance could be an advantage for any reason.