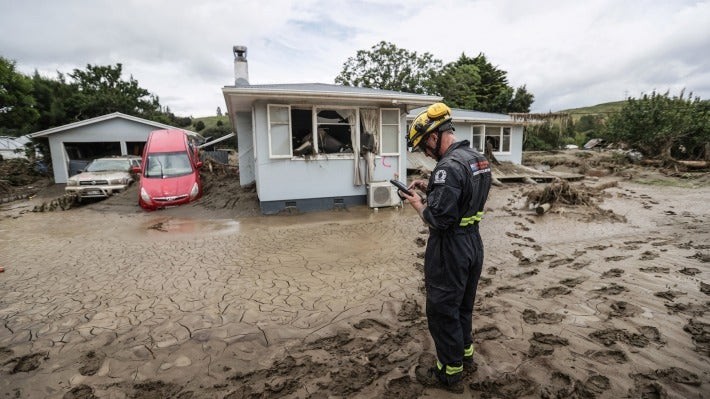 PHOTO CREDIT: STUFF
NZPFU members from around the country have been contacting the Union to offer support to members who have been responding through the recent natural disasters. We have been asked to ensure our members working and living in the devastation left by Cyclone Gabrielle to know they are being supported from afar and we are beginning to understand the incredible sacrifices they have made. Your comrades and colleagues have been watching in awe and sadness as the news of devastated communities was broadcast throughout the country. For those who cannot be with you in person – we are with you in spirit!
The complete loss or unreliability of telecommunication to parts of Hawkes Bay and Tairawhiti have intensified the challenges for those living and responding in those areas. It has also caused anxiety and stress for those unable to check on loved ones in the cut-off regions.
We want to acknowledge that our members have continued to respond to relentless emergency calls for help in treacherous conditions. They continued to do so despite the peril facing their own families and homes. Some members responding to support the community were unable to make contact or return home for days due to wiped out roads and telecommunication systems. Their resilient families had to cope without them and not knowing when they would see their loved ones again.
We want to acknowledge our members performed rescues and used all manner of kiwi ingenuity to get others to safety in circumstances where a few minutes were the difference between life and death. They did so with limited to no communication between each other or centrally.
We want to acknowledge 111 emergency call centre members who battled an insurmountable deluge of calls and were significantly impacted with the loss of direct communications to those responding on the ground. Our call centre dispatchers maintained contact with people who were scrambling to survive as flood waters surged engulfing their homes in minutes. They stayed on the line supporting people shivering through extreme weather in perilous conditions, some perched on roofs, keeping them focused on staying alive until help could reach them. They also took the calls where the cyclone had claimed lives.
We want to acknowledge our members in many other roles that also left their families to support their communities and the volunteer brigades.
We know that those that could returned home physically and mentally exhausted but only for a brief respite before heading out again.
We know some of you did not have homes to return to.
We know that many face a massive clean-up before they will have a habitable home.
Our members are among those whose homes have not had power for days, where water and food is scarce, and they have had to battle on in a community isolated from the rest of the world.
We want to acknowledge our members in specialist response crews who have been deployed from across the country to support and assist. For them and the local members the evolution from an emergency operation into a recovery operation will be challenging. The search for the unaccounted will be undertaken while treacherous conditions and evacuations continue.
For our members in Auckland and Northland the cyclone was the second massive flooding event in two weeks. You have gallantly persevered despite all the exhausting challenges at work and at home. Each event has brought widespread damage and devastation. We also acknowledge our members who have responded to the tragic landslide in Muriwai that claimed the lives of two respected volunteer firefighters. Many of our members across the country are deeply affected by the line of duty deaths.
We also want to recognise the work the NZPFU Locals have done to support their membership. They continue to respond and then spend precious limited off-duty time to make welfare checks and find solutions for those in need. Their dedication to their comrades and colleagues comes at a massive personal cost that is often unseen.
The NZPPFU is here to support and advocate for any members who have suffered loss including possessions and homes or are impacted financially. We understand that for some the full loss will not be known or felt immediately and requests for support may be some days or weeks away. Our members are traditionally reticent to ask for help believing there is always someone worse off than they are. Please do not hesitate to let us know if we can help or support you. Your personal information and your requests can be handled discreetly and your personal information will be protected.
Applications for immediate financial relief:
Claims processes and forms to apply for assistance from the FENZ-funded benevolent fund. This fund is to support career and volunteer firefighters and personnel and is administered by the UFBA. The relevant forms and information can be accessed via https://www.ufba.org.nz/need-help/benevolent-fund
These have been unprecedented events that will result in inquiries and reviews into the preparedness and the response, and tragically there will also be inquests and Coroner's inquiries. The NZPFU will participate where it is appropriate and necessary to do so. We will be working with our members to record the events and issues that affected preparation and response including training and resourcing issues, inadequate staffing levels and available appropriate appliances and the utilisation of specialist response.
But for now our focus is supporting our members and their families.
In unity and with aroha,
Wattie Watson
National Secretary