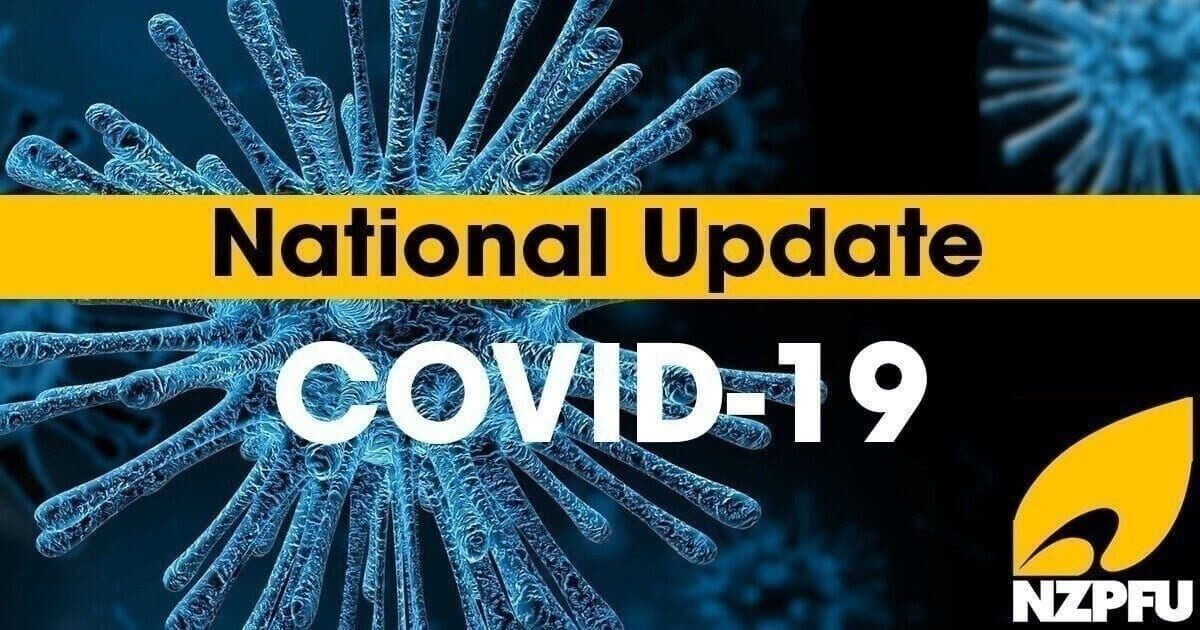 Members who have previously confidentially notified me as not vaccinated or unlikely to be vaccinated should have received an email from secretary@nzpfu.org.nz last night. If you are not vaccinated and not intending to be vaccinated on or by the 15th November 2021, and want the NZPFU to advocate on your behalf then please follow the below instructions.
We are very conscious of the significant pressure our members are under. Please do not hesitate to ask for support or referrals to professional and medical support. We do not underestimate what you are going through at this time including the economic pressure and uncertainty you are facing.
We strongly recommend anyone under pressure and feeling stressed and anxious to see their GP and take sick leave as necessary. It is important that you access all available support including paid sick leave through this period if the current situation is understandably impacting on your health and wellbeing.
The NZPFU Council met with FENZ late Monday afternoon to discuss the process for dealing with the implications of the mandatory order for the unvaccinated, and those that have not declared their vaccination status (and therefore will be treated as unvaccinated as of 16 November unless they advise otherwise). We had formally written to FENZ seeking such a meeting under urgency on the 14th October and have repeatedly requested urgency for such a meeting. The reality is that FENZ is now not in a position to be able to have the required consultation with each and every affected staff member and certainly does not have time to genuinely consider alternative duties and options by the 16th. The NZPFU is also not in a position to do that for everyone in 8 days which is why we wanted to start this process of agreeing to overall process for handling the situation in October when it was likely a mandatory Order impacting on our members would be released.
We have impressed upon FENZ that those that are unvaccinated or deemed unvaccinated should be placed on paid special leave as of the 16th November so that FENZ can achieve the necessary consultation with you and your union representative with a view to finding alternative options for employment.
FENZ has not agreed to that but have said they will consider our position.
We have written to the National Commander Kerry Gregory stating it would be unlawful, untenable and inhumane not to have paid special leave for that period. We will keep you updated on any response and progress of those discussions.
The NZPFU cannot wait for that response to get the necessary information to advocate on your behalf.
Due to the number of those that have notified the Union they are not vaccinated, the Union staff cannot physically represent each and every one of you. We will need Local representatives to help represent and Locals may be in a better position to consider and advocate for specific options relevant to your location. We have impressed upon our Locals that the representatives need to have the appropriate approach and outlook in order to be able to support our members that are not vaccinated. We have asked for union representatives that are able to genuinely put aside any personal views (whether for or against vaccination) to focus on the employment issues and welfare of the members. We will be in touch with them, reinforce the necessary confidential nature of the situation, and provide the Local representatives with assistance and guidance on the information they will need from you and the process going forward. The National Office will be able to assist and support the Local representative.
The following are the representatives from the Locals to advocate and support our members on this issue.


If there is no representative listed for your Local but you have someone else you would prefer to be your union representative, please let me know. It will depend on their availability to assist.


If you are a member who is not vaccinated or won't have your first dose of the Covid-19 vaccine on or before the 15th November 2021 please email secretary@nzpfu.org.nz and authorise me to provide your contacts to the relevant local representative listed below. It is important we now know every member that will need assistance, and we are authorised to provide your contacts to the representative listed below.
| | |
| --- | --- |
| Whangarei: | Paul Ballentine |
| Auckland: | Jeffrey Shrimpton |
| Tauranga: | Michael Swanson or Brendan Dunn |
| Waikato: | Matt Leonard or Ben Humphrey |
| Hawkes Bay: | Jamie Keenan |
| Palmerston North: | Hayden Robinson |
| Whanganui: | Gerard Packard |
| Wellington: | Rob Hutchison or Alan Collett |
| Nelson: | Sam White |
| Christchurch: | Michael Stewart |
| Dunedin: | Antony Mason |
| Timaru: | Gary Harford |
| Invercargill: | Aaron Ramsey |
In unity,
Wattie Watson
National Secretary