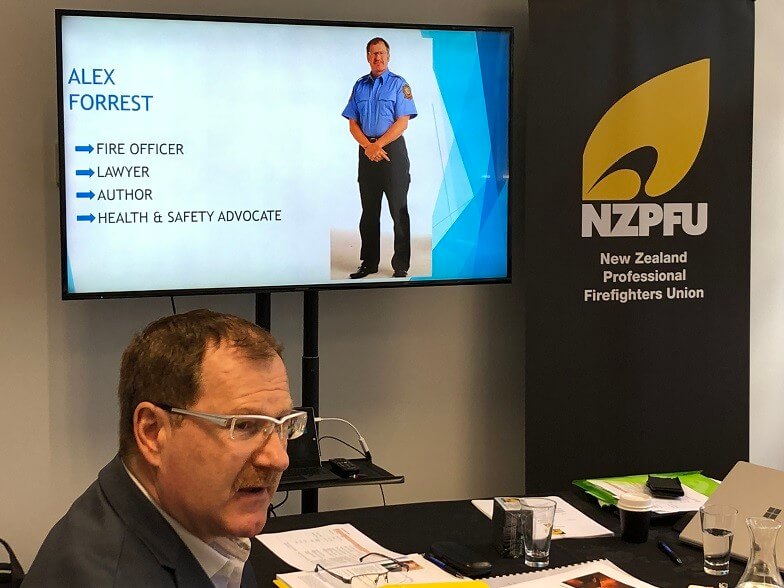 IAFF Canadian Trustee and Winnipeg Firefighters Union President Alex Forrest briefed the NZPFU National Committee today on the science and basis for presumptive legislation recognising occupational cancer.
Alex is in Wellington to meet with firefighters, members of Parliament and media to promote the need for a legislative mechanism to ensure that firefighters can access their ACC entitlements for occupational cancer as they would for any other work injury.

There is a wealth of international research that has demonstrated that career firefighters inhale and absorb through their skin a cocktail of toxins when firefighting.Globally firefighters have struggled to have their occupational illnesses recognised as workers compensation systems are not designed to accommodate the circumstances where it is the repeated exposures over many years of service that result in the contraction of specific cancers. Firefighters cannot demonstrate the specific fires and toxins that resulted in the diagnosis of the cancer. In the USA, Canada and Australia Governments have enacted specific legislation to presume the occupation of career firefighting is the reason firefighters have been diagnosed with specific cancers.
The NZPFU was to host a function at Parliament tomorrow evening where Alex was keynote speaker to explain the issue and provide the science and international experience of the application of the presumptive legislation. We have decided to cancel that event so that MPs and firefighters can instead attend a public vigil for the victims of the Christchurch terror attack.
Other individual meetings scheduled with Members of Parliament will still go ahead over the next couple of days. Alex will also be visiting fire stations om Wednesday and Thursday in Wellington. We will let firefighters know the details of those visits once confirmed.
This is a wonderful opportunity for firefighters to hear from the international expert on firefighter's occupational cancer. The IAFF also leads the way in health and wellbeing programmes including mental health. Alex will be able to discuss those programmes as well. We acknowledge that firefighters' shifts will impact on their ability to meet with Alex. We encourage all to try and make it to a station visit if possible - if off duty you are also most welcome and those with childcare responsibilities can bring the kids.
On Friday Alex will travel Hawkes Bay and meet with firefighters and their families on Friday evening at the Napier Station.
On Sunday he will travel to Christchurch for meetings with MPs and station visits on Monday. We hope to meet with our members in the Comms Centre while we are there.
On Tuesday we will fly to Invercargill to meet with firefighters before driving to Dunedin for station visits.
On Wednesday 27th we will head to Auckland for station visits which will continue on Thursday before Alex flies out on Friday.
Please contact your Local for information about the specific locations and times of the station visits. The IAFF and Alex have generously ensured Alex could come out to promote the need for the recognition of occupational cancer. We hope as many firefighters as possible can benefit from his visit.
In unity,
Wattie Watson
National Secretary