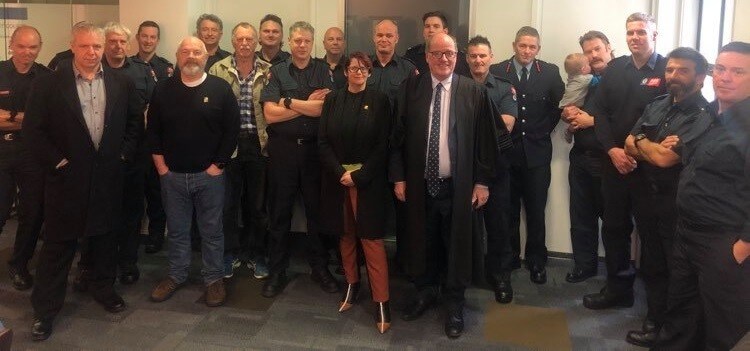 Wellington and Hutt Valley firefighters turned out in force today to hear the legal arguments in the Employment Court.
The NZPFU is fighting for fair and transparent appointment processes in accordance with our collective agreement.

The NZPFU and FENZ evidence was accepted by affidavit and witnesses were not called.

NZPFU was represented by leading employment law specialists Colin Carruthers QC and Barrister Peter Cranny.

The experience of Counsel was evident with the succinct and powerful legal arguments. The case concluded today and the decision of the Chief Judge is reserved. The date that decision will be made is not known but the case was heard under urgency.
The NZPFU case centres on the vacancy and appointment policies in the NZPFU FENZ collective agreement which require the best-suited person to be appointed, and for all applicants to have full consideration and appeal rights. FENZ's appointment process for the re-structure gives preference to those whose positions have been disestablished regardless of their qualifications or experience. This means some professional career officers who have been acting in the roles for some years will not even be considered for any role until those preferred have been employed.
The NZPFU is strongly of the view FENZ's preference process directly impacts on the health, safety and welfare of our members as it is critical firefighters are managed on station and at incidents under the command of qualified and experienced Commanders.

In unity,
Wattie Watson
National Secretary