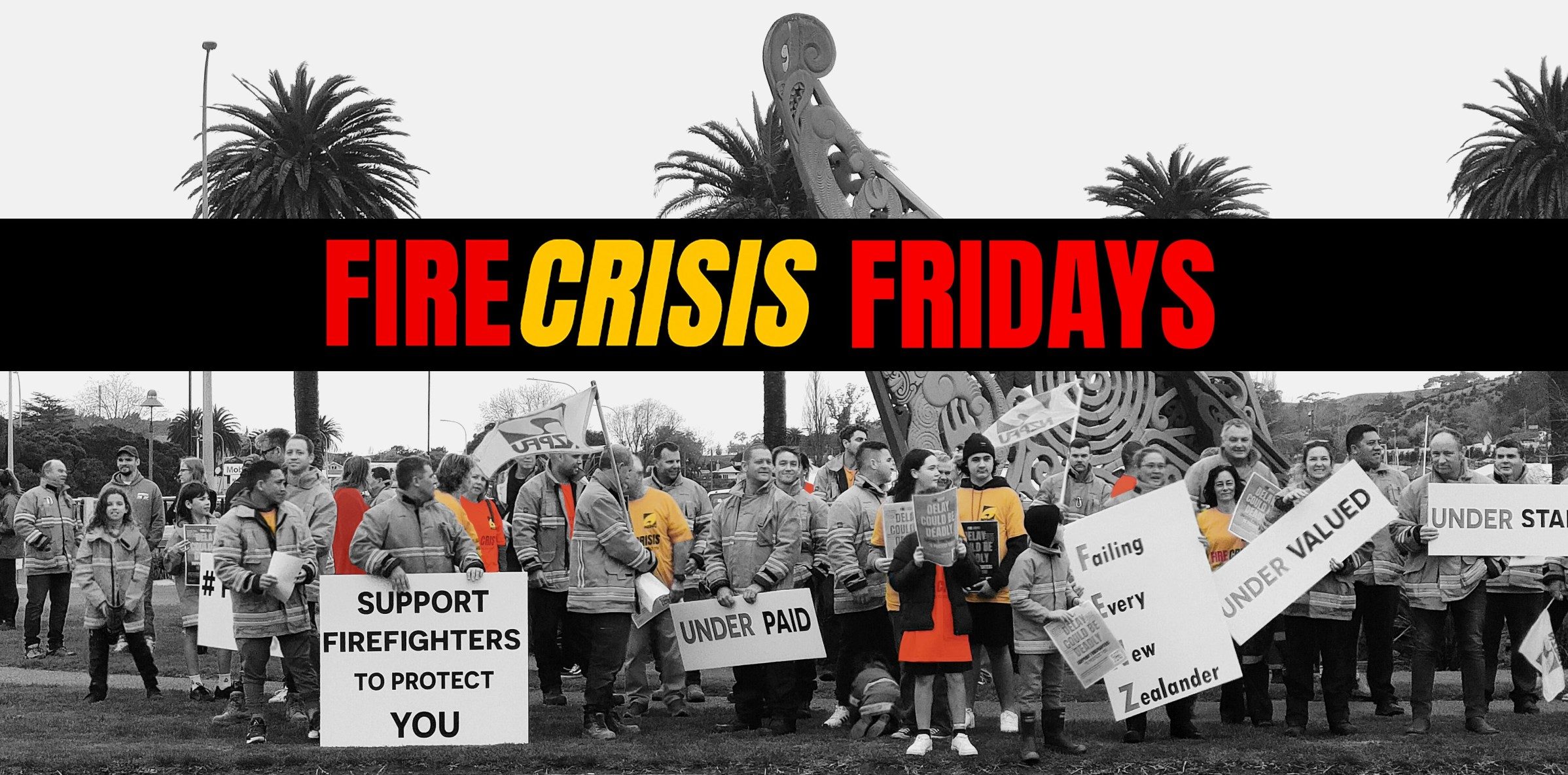 The NZPFU has huge public support coming from all sectors of the community and beyond the shores of New Zealand. Safe staffing levels, appropriate resourcing and equipment, health and wellbeing monitoring and assistance and fair pay and conditions are at the heart of the bargaining dispute that has exposed the failure of FENZ to manage its funding to appropriately protect the public.
This week we will be asking our communities to wear a red or yellow T-shirt to support our campaign. We have had a huge number of requests for new ways in which to show support and wearing the red or yellow shirts and sending us a photo for social media is just one way the public can demonstrate support (please tag @nzpfu and use hashtag #FireCrisis). FireCrisis Fridays is a way anyone can show support wearing our campaign colours while at work, or at home, or even joining us in demonstrations if there is strike action. For more information please go to www.firecrisis.nz/events
Our members are also greatly appreciative of all the support that has come in various forms including cards, messages and baked goods being dropped off. It has been fantastic to see families, friends and members of the community join our members at the recent one-hour strikes. That public support is a fantastic boost for morale, and a strong message to FENZ to resolve the issues outstanding in bargaining.
We have also had offers of monetary donations. While we appreciate the generous offers, the NZPFU is not registered as a charity and we do not accept donations. Members are asked to notify the national office if any monetary donation is handed in or an offer made so that we can thank them for their support and suggest the donation is instead to a charity that needs support.
We have had support from around the community and various groups including businesses offering discounts and other support. We are hugely appreciative of that support and request Locals to discuss any such offers with the national office before accepting such support.
We have huge support from the volunteer brigades keen to have the systemic resourcing issues recognised by FENZ and resolved. The NZPFU is supportive of volunteers responding as they usually would.
The NZPFU membership has been doing it tough. The staffing shortages are pushing our members to the brink working extraordinary hours to keep the community and their colleagues safe. They are often under attack from FENZ who often publicly deny the extraordinary hours our members are working, and fail to address systemic issues that directly affect the health, safety and wellbeing of our members. These issues affect our members regardless of their role. Our members know nothing will change unless they stand up to have these matters addressed through the collective bargaining.
Please be conscious that we have many members who are exhausted, stressed and tired of feeling disrespected and devalued. We need to look after each other while we navigate this dispute. We are proud of the passion displayed professionally by our members on a daily basis and when called upon to stand together. We remind everyone that the end goal is to have a fire service that is resourced to undertake its primary functions of protecting life, property and environment by providing a safe, healthy workplace with fair pay and conditions. Keep the passion and commitment firmly focused on the end goal. Please don't sweat the small stuff or make this dispute personal.
Stronger together – together strong!
In unity,
Wattie Watson
NZPFU National Secretary