Members will no doubt have heard that unfortunately the International Convention Centre fire caught fire once again.
Whilst the cause of the fire is currently under investigation, it appears that this time career firefighters have been able to rapidly and efficiently bring the fire under control using the aerial firefighting truck not available last time the building caught fire (October 2019).
Thankfully this time the all-important aerial at Auckland Central Station in Pitt Street was available to respond to the incident immediately, and by all intents and purposes was a major factor in containing the fire and allowing fire crews rapid access to the floor on fire.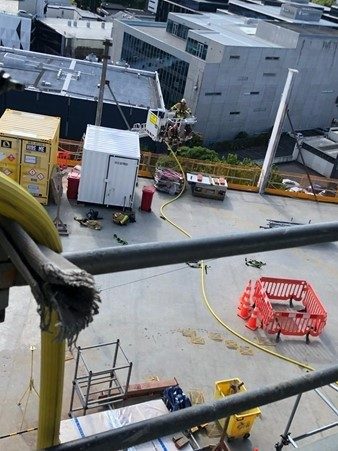 Photo showing yellow firefighting hose plugged directly into Aerial appliance basket. This allowed firefighting crews to rapidly ascend to the floor on fire and extinguish the blaze whilst it was still relatively small.
Unfortunately, this aerial truck was not available to fire crews for the October 2019 fire. Instead 27 lengths of hose had to be physically run up to the roof taking about 25-30 minutes.
The outcome from the two fires could not be more different.

Once again this highlights the importance of these specialist firefighting trucks responding immediately to any actual or reported fire, or alarm of fire in low to medium rise buildings, or those with significant floor areas.
The different outcomes between the two fires (October 2019 and January 2022) are an example of Aerial Fire Fighting trucks effectiveness.
The timely arrival of these vehicles cannot be understated, and this incident proves how effective they are when they arrive quickly and can set up in the early stages of a rapidly developing fire situation.
The Fire and Emergency NZ practice of delaying and only responding these specialist lifesaving fire fighting vehicles to "confirmed" fires is inherently flawed and dangerous to safe systems of work for firefighters and the public.
The Unions advice to members continues to be that if in the opinion of the Incident Controller an aerial may be of benefit for any reason then it should be immediately called for via our Dispatchers.