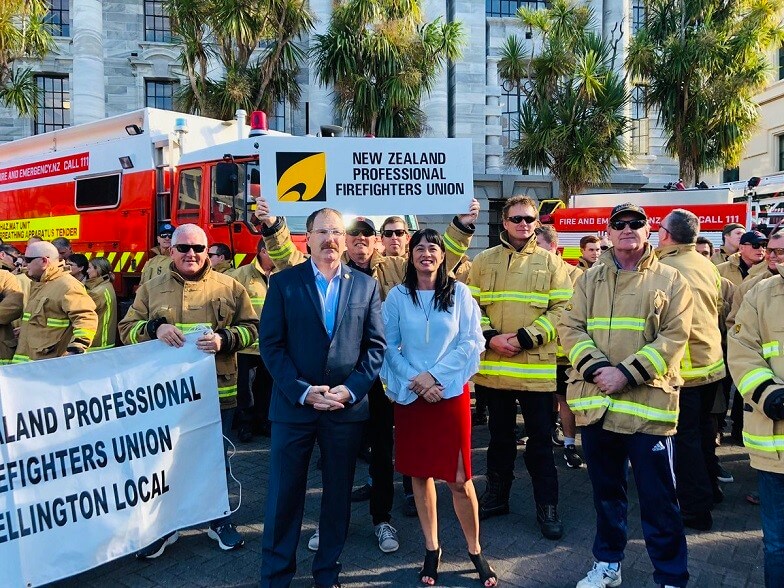 Internal Affairs Minister Tracey Martin told firefighters on the steps of Parliament today that she has written to ACC Minister Iain Lees-Galloway voicing her support for an amendment to recognise firefighters' occupational cancer and that it needs to be put on the legislative agenda.
More than 100 firefighters and 6 appliances were an impressive sight on the Parliamentary forecourt as media and MPs gathered to hear from Alex Forrest and the firefighters.
The NZPFU and firefighters appreciated the opportunity to meet and thank the various MPs who have declared their support and will work with us to get a Bill before Parliament.
The MPs attended included Minister Tracey Martin, Minister Damien O'Connor, and Members Ruth Dyson, Marja Lubeck, Kieran McAnulty, Jan Tinetti and Bakshi Kanwaljit-Singh.
Great display of firefighters on the forecourt today. Making a stand for better protection under ACC law with their union reps @NZPFU and passionate advocates Alex and Wattie. pic.twitter.com/emkohNQfIL

— Marja Lubeck (@MarjaLubeck) May 23, 2019
Awesome to see the firefighters on the forecourt today. Making a stand for better protection under ACC law with their union reps @NZPFU and passionate advocates Alex and Wattie. pic.twitter.com/LEyjyACMP3

— Jan Tinetti (@jantinetti) May 23, 2019

More photos and coverage from our day of action