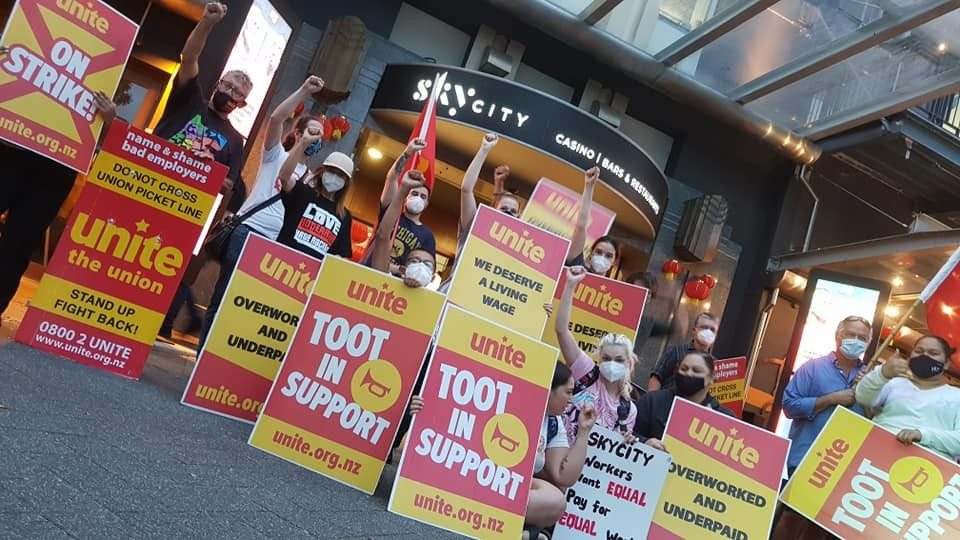 NZPFU members have been buoyed with the solidarity shown by other unions and the public support during last month's industrial action.
While the NZPFU has suspended its industrial action until 30 September 2022 to allow for a facilitated mediation process, we are supporting other workers battling for fair and reasonable employment terms and conditions. We are in solidarity with other striking and locked out workers around the country, many of whom were essential workers during the Covid-19 lockdowns.
UNITE rally for fair pay
Unite union members at Sky City (including cleaners, security guards and hospitality workers) are low paid workers fighting for fair pay including being paid no less than the living wage and to maintain seniority steps in their pay scales. The Unite members are taking industrial action including stoppages. Unite has organised a rally at 2pm this Saturday at the Sky Tower calling on all essential workers to stand in solidarity.
The NZPFU encourages off-duty members to head down to the Unite-organised rally on Saturday with NZPFU flags and wearing NZPFU t-shirts supporting Unite and Pulp and Paper Workers and other unions in the call for fair and reasonable wages for essential workers.
The struggle for fair pay for essential workers continues for Pulp and Paper Workers Union members who have been locked out of their Kawerau workplace since the 9th August.
The NZPFU has sent messages of solidary and made a contribution to support the locked out workers at the Kawerau Essity mill workers. The NZPFU joined other unions and New Zealanders across the country who have supported the locked out workers by sending funds and goods to help pay for essentials for the families. The Kawerau Local has also been in touch with the union to offer support and the locked out members supported the NZPFU when taking industrial action.
Last month the initiated legal action against 67 staff seeking more than $500,000 in damages in relation to technicalities over a strike notice. The Union and employer are currently back in facilitated negotiations.
In unity,
Wattie Watson
National Secretary