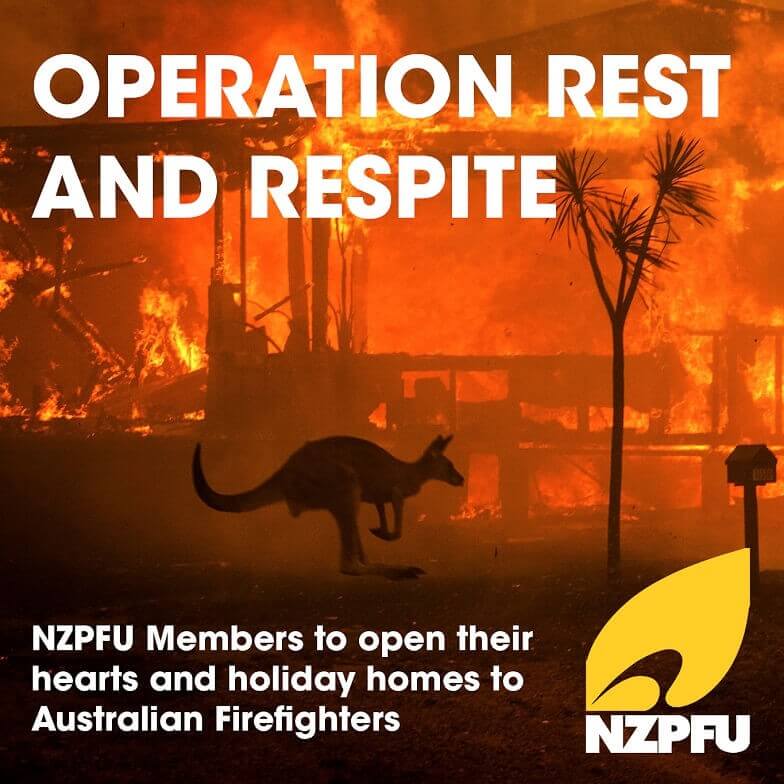 NZPFU Members to open their hearts and holiday homes to Australian Firefighters
The NZPFU is facilitating "Operation Rest and Respite" for Australian firefighters and their families needing a much deserved break from the catastrophic bush fires in Australia.
The bush fires are unprecedented in scope and intensity and arrived fiercely well before the predicted fire season. It is predicted that this will be a long and devastating fire season that is expected to put Australian fire services to the test for weeks and months to come.
While New Zealand is deploying firefighters to Australia to assist, not everyone can go yet many members have approached the union wanting to assist. We have canvassed a few members about practical assistance we can offer and had support to make holiday homes available here in New Zealand free of charge for the weary firefighters and their families.
The NZPFU has been in contact with the United Firefighters Union of Australia and together we can provide an option for firefighters and their families to access free accommodation at holiday spots around New Zealand. The offer will be made to all firefighters – career and volunteers. The UFUA will assist in verifying those taking up the offer are firefighters who have been battling the fires or keeping the towns safe.
If you have a holiday home, or a place that could host Firefighters' and their families, please register your support today!
Members are requested to go our NZPFU Members Zone to securely provide the necessary information of the location and facilities that you can make available free of charge to Australian firefighters and their families. Fill in the appropriate details and we will be in touch to match up you with the visiting firefighter to make the final arrangements.
It may take some months for the fires to abate or for firefighters to be able to make the trip, so even if your holiday home is not available right now let us know if it will be available later on.
If you have relatives and friends who have holiday homes available please send them this link to participate.
There is also an option for those that don't have a holiday home, but wish to host a family.
The Australian firefighter and family will have to fund their travel to the free holiday accommodation.
We will be looking for sponsorship to assist with those costs.
If anyone has offers for sponsorship or can assist with those costs please ring National Secretary Wattie Watson on 021 928 819.
Please go to the electronic register first – for any other queries please ring National Secretary Wattie Watson on 021 928 819.
In unity,
Wattie Watson
National Secretary