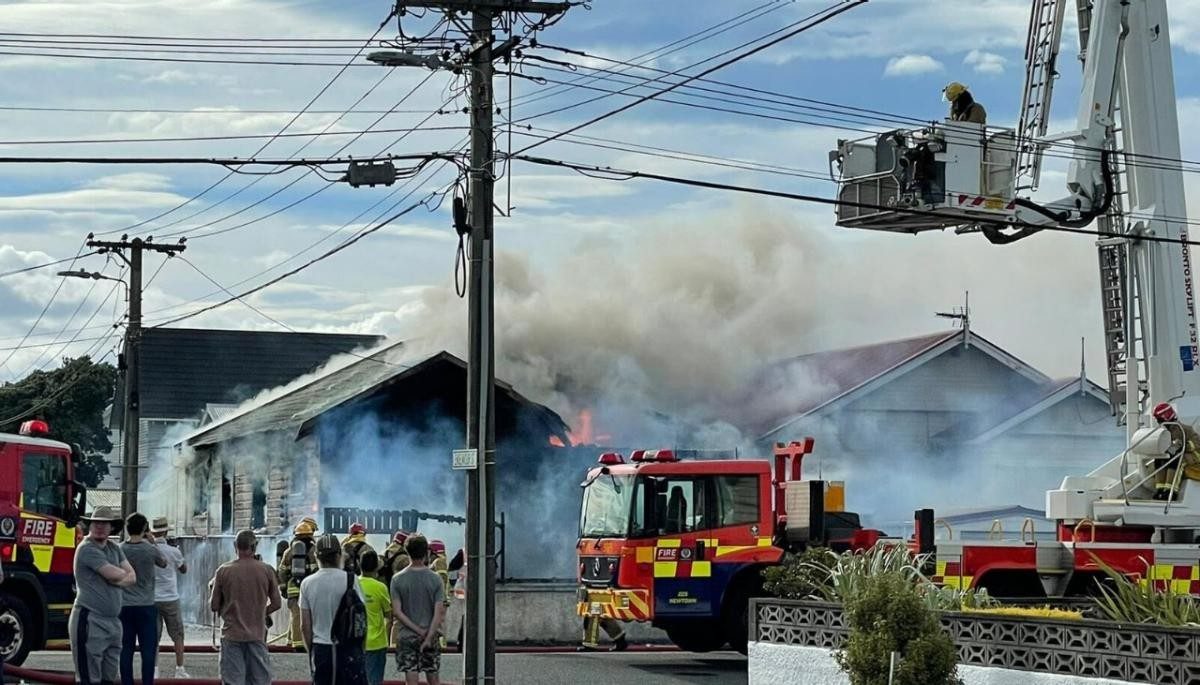 Photo credit: Newshub
The dangerous saga of appliances failing at fires has occurred far too often in recent times with the most recent failure of an aerial appliance at a critical time during a structure fire in residential Kilbirnie.
The truck had already been jacked up and partly raised its ladder to begin pumping water, when it seized. The failures and faults of this particular appliance is well documented including issues at training the night the Kilbirnie fire. On the 2nd February 2022 it was the experience of the operators that saved the crew from injury and the truck from destruction.
Yesterday an HSR issued PINS (Provisional Improvement Notices under the Health and Safety at Work Act 2015) citing FENZ's breaches of the primary duty of care including the requirement to provide and maintain safe systems of work including maintained and safe appliances.
Those PINS followed a cease work notice (below) on Newtown 225 issued on 2 February 2022 shortly after the Kilbirnie fire.
Cease Work Notice

The planning and implementation of local fault recording on a UNION based recording system by the Wellington local and the reporting of the operators who have endured a relentless stream of vehicle faults over a span of years, has been key in gathering sufficient evidence to support the stop work order.

" As per section 83 (4) of the Health and Safety at Work Act 2015 that as a work force we are exercising our rights under section 83 to refuse any further work on or operating the above mentioned piece of plant FEY849 Newtown 225 type 5 aerial appliance.

This cease to work notice is based on the following:

Operators have serious concerns as to the abilities of this piece of plant and its reliability. Evidence of multiple faults with this appliance are well detailed and recorded. We therefore believe the operation of the appliance puts workers in a position of imminent exposure to hazards and any operator is placed in a position of potential serious risk S 83 (1).


The above mention piece of plant registration number FEY849 has already been subject to a level 2 investigation in the past and repeated repair attempts have not alleviated a number of issues identified by operational operators and again today it failed at a house fire in the Kilbirnie area. As such we will continue to refuse to work on this appliance as per S 83 (2)(b) as we have continually raised concerns with Fire and Emergency NZ about this matter to which they have not satisfactorily resolved the issue nor have they given it due diligence nor importance. We will also continue to refuse to work on this piece of plant as per S 83(2)(c) in that we believe on reasonable grounds to continue to do so would expose workers to continued potential serious risk due to the elevated nature of the work that this aerial appliance undertakes.

The operational firefighters and officers of the Wellington District are happy to continue to carry out alternative work on a relief appliance should it be provided and this cease to work notice is applicable only to Newtown 225 registration number FEY849. "
In unity
Wellington Local Secretary
Alan Collett