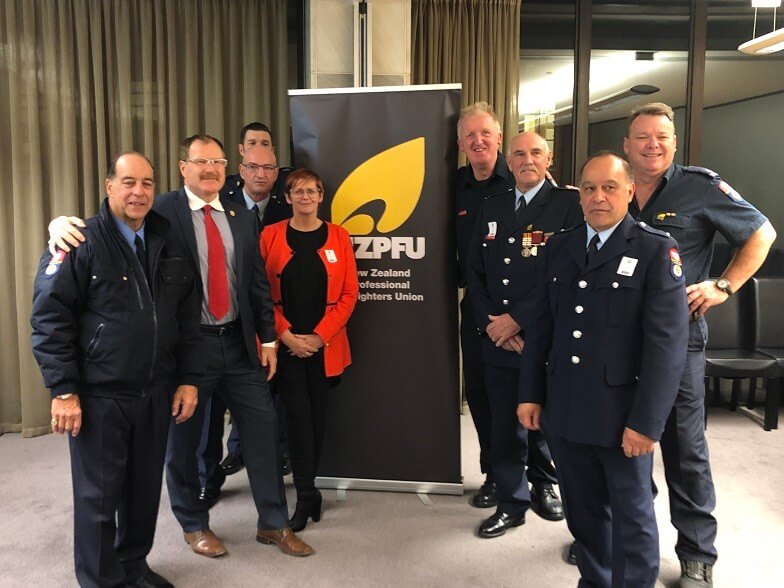 With the incredible assistance of international expert/firefighter/lawyer and Winnipeg Firefighters Union President Alex Forrest we are well on the way to achieving cross-party support for presumptive legislation to recognise firefighters' occupational cancers.

Last night about 25 MPs sacrificed their dinner time in Parliament to come and hear Alex's presentation. Many had great questions and all left supportive of our campaign.
Representatives of the Union Committee and Rimutaka Firefighter and cancer survivor Erroll Tapiki are pictured with Alex Forrest at the Parliamentary Function. Your representatives were integral in mingling with the guests to give the most important firefighters' perspective of the urgent need for presumptive legislation.
Today after appearing on TVNZ breakfast show Alex and National Secretary Wattie Watson continued their meetings with Members of Parliament.
We remembered to get photos for two of the meetings.
Pictured is Rino Tirikatini welcoming Alex which was Alex's first Hongi.
His Labour colleague Angie Warren-Clark (pictured) also made time to learn from Alex's perspective. Her previous work in ACC will help us.
Tomorrow Alex will be interviewed on Radio NZ Morning Report from about 8.10am. Make sure you all tune in!
We have MPs and media ready to meet firefighters on the steps of Parliament tomorrow (Thursday) at 12.30pm. It is imperative that we have a great turn out so your Parliament can see how important this is for New Zealand Firefighters!
In unity,
Wattie Watson
National Secretary.